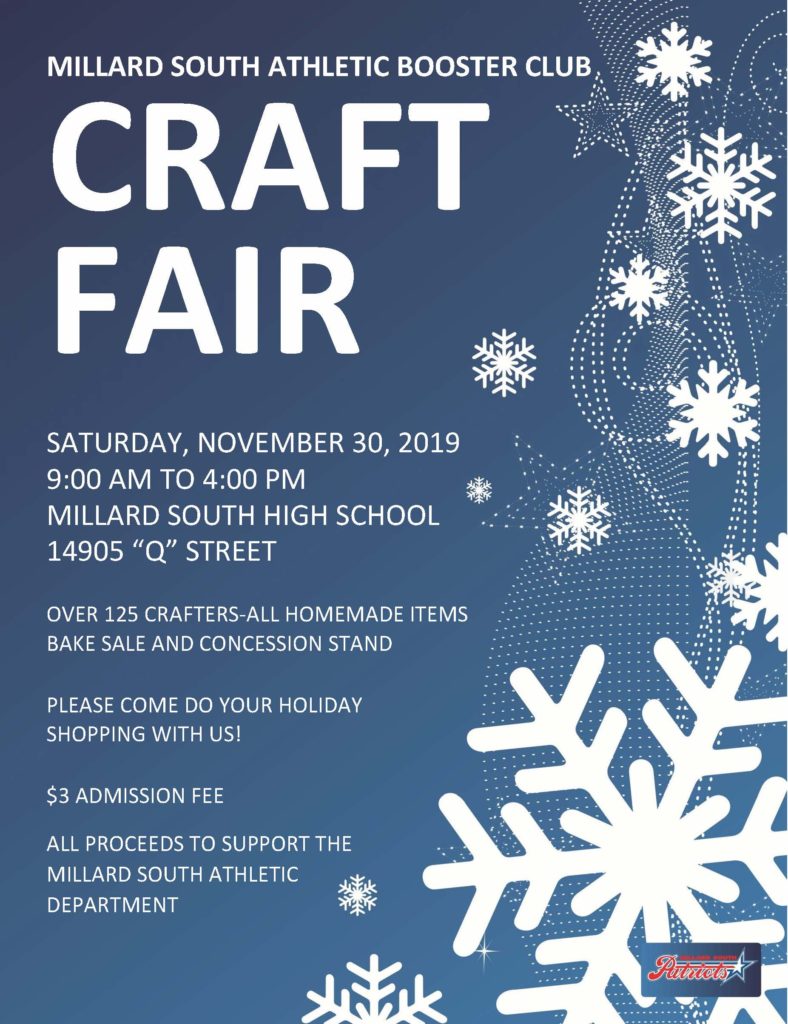 Thank you for your interest in the 2019 Millard South Craft Fair. Below is some basic information about our craft fair.
This years craft fair will be on Saturday November 30th, 2019
Check-in is from 5:00 p.m. – 8:00 p.m. Friday or Saturday morning from 7:00 a.m. to 8:45 a.m.
Booths must be ready for shoppers by 8:45 a.m. Saturday morning.
The craft fair ends at 4:00 p.m. on Saturday.
Tear down must be complete by 6:00 p.m. the day of the craft fair. All table rentals must be emptied by 4:30
Volunteers will be available to help unload and reload your items. They will not help you set up your booth.
On Saturday immediately after unloading, your vehicle must be moved to the west parking lot (accessible off of "Q" Street). East parking lot is to be used for customers.
Please bring your own dollies and/or cart to unload your vehicle.
Booth sizes are 10′ wide by 8′ deep. You can reserve as many booths as you need ($50.00 each). Table rentals are $10.00 each.
Booths must be limited to handcrafted items. Food products are acceptable with your own business/commercial label or label reading "packaged for (your business name)".
Electricity is first come, first served (limited availability) and is not guaranteed. Only one outlet is allowed per booth and you will need to furnish your own heavy duty extension cord.
Products must be sold from your booth. Walking the show to promote your product or pulling customers from other booths strictly prohibitted.
Crafters from previous year are given right of first refusal of their booth space until June 30th of the following year.
Ads will be placed in local newspapers, MSHS websites, MSHS marquee and via social media.
A concession stand will be available all day. Vendors will receive a ticket for 2 cups of coffee and 2 donuts.
A bake sale will be available throughout the day.
Millard South High School and surrounding property are NON SMOKING areas.