[et_pb_section][et_pb_row][et_pb_column type="4_4"][et_pb_text admin_label="Text" background_layout="light" text_orientation="left"] Dear Millard South Boosters: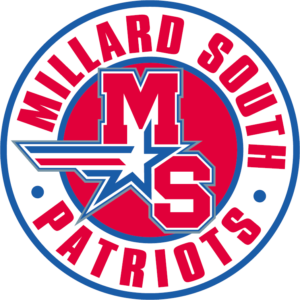 The Booster Club was organized in 1995 to address increased pressure in funding high school sports, dance and cheer programs. In the time since, the MSABC has raised over one million dollars in contributions to assist those programs. And, in addition to raising money for our target programs, we also provide leadership for the Annual Patriot Fan Fest. This immense back to school-community event, provides the catalyst for every Millard South High School fall program to showcase their talents to Patriot Nation.
If you are a Millard South High School parent, alumni, friend or area business, we highly encourage you to join the MSABC and get involved. It's the most economical way to see the hundreds of sporting contests held each year with teams from one of the truly exemplary athletic departments in the Midwest, and it's a great way to get to know your school and community.
During the school year, the MSABC sponsors the annual: Patriot Fan Fest; Fall Craft Fair; and Patriot Booster Bash and, during the summer, we sponsor a Fireworks stand for the 4th of July where everyone gets a chance to show their Patriot Pride. Every one of our events is a lot of fun, and a great way to get to know the Millard South Family!
If you have any questions on how to get involved or start a membership, please don't hesitate to contact us at
millardsouthabc@gmail.com
. We'll get back to you right away. Go Patriots! [/et_pb_text][/et_pb_column][/et_pb_row][/et_pb_section]